After the telecom and broadband sector, the new target of companies is to strengthen their hold in VoWiFi calling. Moving in the same direction Reliance jio Has launched video and voice Wi-Fi calling service for its users across the country. With the help of this service, the company is claiming to give users the best experience of indoor calling. Users can use this service with any active plan of Jio. The company is not taking any extra charge for this. Jio director Akash Ambani said, "An average Jio user makes 900 minutes of voice calling every month at this time. In view of the growing user base, the launch of Jio WiFi calling will ensure that they get the best voice calling experience. ' You can activate this service on your smartphone by following the easy steps mentioned here.
Here's how to activate:
To activate on android
– Go to the Settings option of the phone.
– Tap on the connection feature given here.
– After this you will get the option of Wi-Fi calling.
– Turn on the toggle on the right side of the option.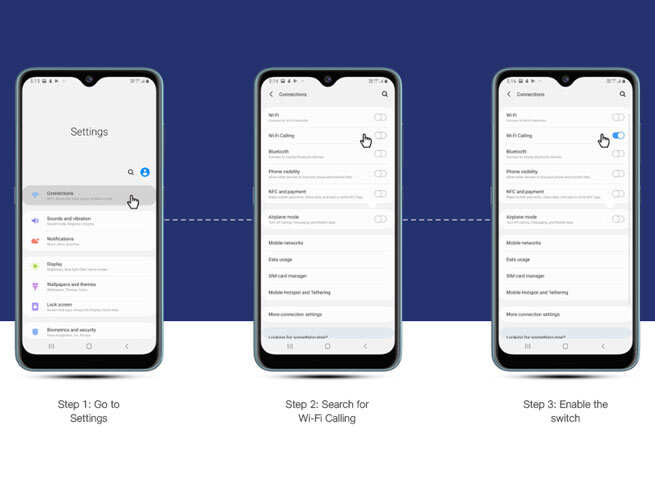 How to activate on Android
How to activate on iOS
Go to the phone option given in the settings.
– Tap on the Wi-Fi calling option below the Calls section.
– Now turn on the toggle with 'Wi-Fi Calling on This iPhone'.
How to activate on iPhone
To use this new service of Jio, Android or iOS device will have to be updated with the latest software. Along with this it is also necessary to have high-speed internet and stable Wi-Fi internet connection for better calling experience.
150 handsets got support
This service of Jio will provide free voice and video calling to Jio users at 150 hands. Apart from Apple, Samsung, Xiaomi and Vivo, some companies have enabled HD voice feature in their devices. This will give users free Wi-Fi calling experience without interruption.
Free call to any Indian number
The company said that it will not take any charge from the users for this service. Users can make free calls to any Indian number anywhere and in the country. This means that users using Jio Wi-Fi calling will also be able to enjoy free calls while roaming.
Airtel also launched service
On the other hand, Jio is getting tough competition from Airtel. The company has recently started Airtel Wi-Fi nationwide. Any Airtel user can access this Airtel service from home or public Wi-Fi network. Like Jio, Airtel also wants to give users a better indoor calling experience for free through Wi-Fi calling.